Hello, content creators out there.
Are you wondering about what are the things that you are lacking in becoming a video content creator? Despite having a camera that records videos on 4k support or shooting videos with your expensive iPhone, it is still not working out for you.
And while some of you are already being a video Content creator still not getting that reach.
Then don't let your moral down.Trust me as a content creator I have been there and I know what is lacking in your journey of being a popular video content creator.
So, The things are filters, transitions, slick look, and many more. And What if I tell you that all these things you can find only in one software?
Yes, you heard it right there is plenty of video editing software out there in the market. Wanna know which one of them is best? Then go through this whole article and learn things about video editing software and dive into the list of Best Free Video Editing Software for video content creators.
So let's get started!
Why Should Bloggers Care about Videos and Video Editing?
Videos are the great source of expressing one's thoughts, opinions, reviews and are considered as a more engaging medium than penned down articles.
Nowadays Video based content has more reach than simple articles and helps to increase traffic and sales for any content niche.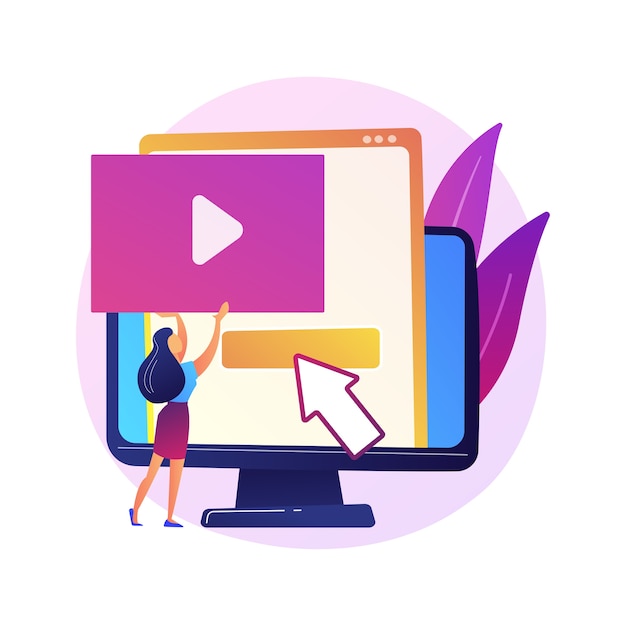 Below I have mentioned the subheadings of why bloggers should care about videos and video editing.
These subheadings will help you in understanding your targeted audience.
So just go through them one by one so that you can have a clear idea about why video content is preferred by most people.
Video Is the Most Preferred Content Format
If we look at the figures that are mentioned by Google, then 60% of the people prefer watching videos over live TV.
And according to CMI( Content Marketing Institution) 54% of people prefer online video Content over penned down articles.
This is because video content easily captures viewers attention. Some Common forms of video content include vlogs, animated GIFs, live videos, short videos like reels,tik tok video as they are in trend and customer testimonials, recorded presentations and webinars.
Video Can Keep Users Engaged
Usually videos elaborate emotions and tell stories in a way that no user can resist to watch them. They are specially made for the purpose of engaging with the audience. And gives them a reason to stay for a long time.
Thus engagement becomes a key factor of generating income for video content creators.
Videos Give Good ROI
The term ROI stands for "Return Of Investment" and represents the ratio you get of your net profit versus the initial cost put into something.
To understand the concept of RIO in video marketing. Let's assume you are working on a video which you have to upload on YouTube or any other digital platform and later on want some revenue from it.
Then to track down that revenue you have to first determine the initial cost of your investment then subtract this amount from the final value you have earned then Divide the net return by the initial investment cost then multiply that new amount by 100.
And for a video to give good ROI following factors matters
Videos Work Great on Social Media
Videos are the best content for social media. As they capture viewers attention in a short span of time. And
Like, share, subscribe are the three key components responsible for a video to go viral on social media that's why videos work great on social media.
If one's vedio gets hype on social media then he/she can generate a handsome amount of income from such platforms like YouTube, Instagram, facebook etc.
Videos Are Multipurpose
YouTube is a giant social media platform where Videos can be used for multipurpose contents like teaching, technical things, vlogging, movies, and many more.
Nowadays videos are also getting popular amongst content writers or web developers. How?
Usually content writers penned down an article with a whole bunch of words. And sometimes viewers get bored of it as you're getting now.
So these days what content writers do is they just upload a short video according to their niche on their blog. So that they can grab people's attention. And can explain their thoughts clearly.
Video Editing Saves You Time and Money
Shooting a video is too time consuming and the idea of video marketing is intimidating. So here video editing software comes into play. As it can simplify vedio creating process, thus saving a handful of time and effort.
For small video project why always go for a Professional video editor while you can edit your own videos
By using some free video editing software available in the market. This will save both your money and time, Also get Free Photo Editing Software for Bloggers.
5+ Best Free Video-Editing Software for Bloggers
There are plenty of video editing software for bloggers tools available but choosing one is again such a difficult task to do.
So from deep-down research, I have handpicked some of the best editing software from the rest. As they are almost free of cost and packed with lots of latest features.
Most of them show compatibility with mobile devices as well as built for desktops and laptops.
So let's dive into the pool of 5+ Best video editing software for bloggers.
1. VSDC Free Video Editor
VSDC is such a versatile multimedia editor which is fully loaded with a set of tools for editing video, improving audio, recording voice overs, capturing desktop screen and many more.
You can give your videos a professional touch by using one of the coolest features which allow you to blend multiple layers of footage into a simple composition.
It usually offers its service for free but if you are an experienced video editor then I suggest you to go with it's premium version as in the premium plan they offer pro-level editing tools for faster processing.
Features Include
2. iMovie
iMovie is one of the most popular video editing software developed by Apple inc. generally for macOS, IOS, and IPadOS devices.
With the iMovie video editor you can enjoy your videos like never before. It's easy to browse your clips and create Hollywood-style trailers and stunning 4K-resolution movies. You can even start editing on iPhone or iPad, then finish on your Mac.
You can create professional looking cinematic videos without holding a professional degree in cinematography.
If you are really into movie making things but can't afford expensive video editors then don't let your hopes down because iMovie does not compromise dreams for costs.
So go and grab this opportunity for free.
Features Include
3. Blender
If you have an interest in animation kinds of things then blender is for you. And it is a free video editing software.
Blender is a multipurpose video editing software and well known for its versatility such as It supports the entirety of the 3D pipeline—modeling, rigging, animation, simulation, rendering, compositing and motion tracking, video editing, and 2D animation pipeline.
Blender works on desktops and laptops with high performance capacity.
Features Include
4. Lightworks
Lightworks has been dominating in the movie making industry for the past few decades and worked with some of the marvelous movies in Hollywood cinema history such as The Wolf of Wall Street, LA Confidential, Pulp Fiction, Heat, Road to Perdition, Hugo, The King's Speech and many more.
The biggest achievement of lightworks came in 2017 where they won EMMY Award for pioneering digital nonlinear editing.
So those who are aspiring their careers in movie making then lightworks is a perfect platform for you.
They have both free and Premium plans and there is not so much difference in both. As they both are packed with some astonishing features.
Features Include
5. Shotcut
Shotcut is the best choice for a beginner because it is easy to use, packed with multimedia editing tools,
And has a wide range of tutorials to guide you.
It's an open source and free video editing software that only works on Windows.If you want to edit your YouTube videos and don't want to work on complex editing softwares then you can rely on it.
It's interface is too smooth and intuitive, with the drag and drop option you can easily add videos.
Features Include
6. VideoPad
VideoPad is absolutely a basic free video editing software for bloggers that mainly works on ora such as Android, ios, windows, and many more which makes it compatible with any device.
So if you are low on your Budget and can't afford systems for video editing then this can be your best choice and you can start working on your mobiles.
The drag-and-drop feature lets you easily edit a wide range of videos, apply transitions and effects, adjust speed, and more.
Features Include
7. Hitfilm Express
Again a free video editing software for bloggers which is mainly known for its visual effect editing or professional grade VFX tools. Everything is there that you need for making awesome content, flims, and gaming videos.
Perfect for beginners, film students, YouTubers, gamers or any creative content and is budget free.
Available for only Windows and mac.
They recently fixed their bugs and did 6 updates in the past 12 months.
Features Include
FAQ's
What is the easiest free video editing software?
The easiest free video editing has a smooth and easy-to-use interface.
You can go with the following   options
1. Shotcut
2. VideoPad
3. VSDC free editor
What do most YouTubers use to edit their videos?
If you loves to do vlogging and want to start a carrier on YouTube as a YouTuber than these options are for you
1. iMovie
2. Hitfilm express
3. VSDC free editor
Does Microsoft have a free video editor?
Yes, it does have and it I Known as Get Movie Maker
What is the easiest free video editing software for beginners?
For beginners I would say VSDC is the right choice.
Wrap Up
In a nutshell, this all video editor software is easy, powerful, and budgeted. And these are the great mediums for a beginner to start his/her career as a Youtuber and are the best free video editing software for bloggers and Video Content Creators.
While some show compatibility with mobile devices it makes it easier for you to edit from anywhere. So hope you loved reading this article.